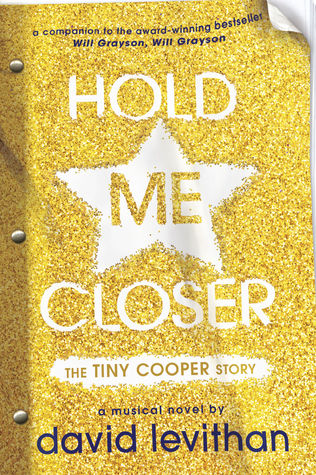 "Maybe there's something you're afraid to say, or someone you're afraid to love, or somewhere you're afraid to go. It's gonna hurt. It's gonna hurt because it matters."
Ever since I read Will Grayson, Will Grayson, I've wanted more from the story and the characters. So, when I found out about this book, I was thrilled. Not only that, but I got to buy it earlier than its release date, and I even got David Levithan to sign my copy. When I told him how excited I was about it, he looked at me and said "I'm nervous now. I hope it lives up to your expectations."
And guess what, Mr. Levithan? It did!
Hold Me Closer is Tiny Cooper's complete musical, from his birth, to his teen years. Tiny Cooper is a big, gay boy. He loves the spotlight, singing, and–you guessed it–boys. I think I knew what I was getting myself into when I decided to pick up a musical about Tiny, but it definitely went above and beyond what I expected from him. When I read about Tiny in Will Grayson, Will Grayson I only got to see him from the outside, from both of the Wills in his life. I didn't really fully understand him. I saw a shell, and I always wanted to see through it, see who he really was inside.
This musical made that possible.
Tiny isn't that self-centered boy who stupidly falls madly in love with the first guy who looks his way. He's so much more than that. He's intelligent, loyal, sweet, and he actually learns from his experiences. He gives great advice in his stage directions as well. I mean, by the end of this musical, I was full on rooting for Tiny.
"He counts as an ex because he made me feel dumped even without making me feel loved first."
Through his musical, I was able to understand, and relate, to this wonderful person that is the highly talented Tiny Cooper. It could be narcissistic behavior to write a musical all about yourself, but like Tiny said, this musical is about love, not him. And it really felt that way. I was so proud of his growth throughout.
His ending message was meaningful. Despite all of his disappointments in love, he decides not to stop falling and landing in love. Because the experience is much more important than the heartache. Isn't that the point in life? To pick up the good pieces and move past the bad ones?
I would recommend this to Levithan fans, as well as fans of musical theatre and rom-coms. This book is ridiculous, hilarious, and very gay. Most importantly, it is beautiful!