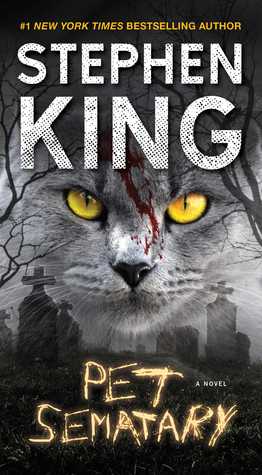 Maybe she'll learn something about what death really is, which is where the pain stops and the good memories begin. Not the end of life but the end of pain.
This book is so twisted.
I don't know what it was, but while listening to the audiobook, this book made me feel ill. Granted, I have anxiety, so that might have been the reason why I had heart palpitations, headaches, bright red cheeks, and nausea while listening to this book. No book has ever made me feel this sick to my stomach. That should tell you how disturbing and upsetting it was. I'm actually convinced that this book somehow contains bad juju, or some curse that courses through your veins while you're reading it. But I really can't complain because it's one of the best books I've ever read.
I think it's better to go into it not knowing much about it. Here's what I'll tell you: it's set in Maine, it's very much centered around death, grief, and loss, there are excellent characters that steal your heart, there are terrifying scenes that I will likely never forget, and it's one of the most terrifying Stephen King books I've read to date.

Cats were the gangsters of the animal world, living outside the law and often dying there.
I have to say, I watched the movie a few years ago and figured I didn't need to read the book. However, the new adaptation is coming out soon, so I decided to read the book before watching it. I thought I was prepared for what was coming because I knew to watch out for it, but I was wrong. I wasn't prepared for anything. It was all shocking and gruesome and horrible. But I couldn't put it down. I had to keep going.

Sometimes dead is better.
I'm not sure how I feel about death anymore. I've always feared it, but not for the reasons I fear it now.