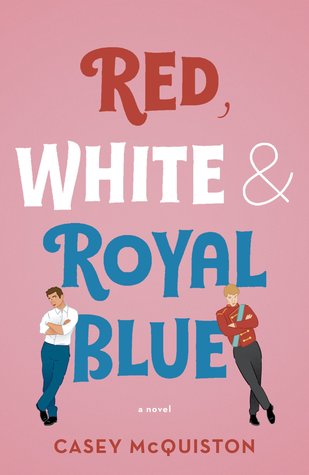 History, huh? Bet we could make some.
I just want to stay in this book forever.
I had the enormous pleasure of reading an early copy of this book through NetGalley, and I'm so grateful for that because from the moment I heard about this book, I knew I would love it. Sometimes, though, you hear about a book that sounds too good to be true, and it disappoints you because your expectations were way too high. In this case, I'm delighted to say that this book exceeded each and every one of my expectations.
Red, White & Royal Blue follows Alex, the First Son of the United States of America. In this wonderful fictional reality, the U.S. has a phenomenal woman as president, Madam Ellen Claremont. Alex Claremont-Diaz is her half-Mexican son who is one-third of the White House Trio, also made up of June and Nora (who are both exceptional women, owners of my heart). I completely adored the White House Trio, and the president, and the entire White House staff. Adored them. The fact that Alex and June were half-Mexican and very attached to their Mexican culture pulled my heartstrings. Being Mexican, I saw so much of myself reflected in them. I saw so many things of my culture that I had long ago forgotten, and was pleasantly reminded. I felt so connected to these characters for these, and many other reasons.
I'm already gushing and we haven't even made it to Henry. Oh, boy. How should I sum up Henry? Henry is the Prince of Fucking England. Oops, sorry. I mean. His Royal Highness Prince Henry of Wales — no disrespect. Henry is the softest, most talented, most beautiful man I've ever had the pleasure of meeting. Wow. Henry is a dream, but like a dream that you never want to wake up from. A dream that keeps on giving. Henry is all that is good in the world and then some. He also has the most amazing sister, Bea, who protects him fiercely. And the most glamorous best friend, Pez, who is honestly the best. So, yeah, I think we can all agree that this book stole my heart, entirely.
So now, the premise of this magnificent book, which is the hook that gets everyone. Alex and Henry are lifelong enemies, have always hated each other. But due to a small incident involving them ruining an expensive cake and jeopardizing the peace of their two nations, they're forced to spend some quality time together. You know, just two guys that hate each other spending time. What could possibly happen next? Oh, wait, I know! It's the best trope ever! Enemies to friends to lovers. And Casey McQuiston does it perfectly. Their relationship develops so naturally, and before you know it, you're rooting for these two beautiful idiots to just kiss already because they're obviously harboring very romantic feelings for each other!
You know, I usually love queer romances in books. That's my favorite thing to read. I love the rep, and that's what I'm here to read. But in this book, there was so much more. I came for the romance and stayed for all the other things. Among these things were all of the extraordinary side characters that were all fleshed-out and absolutely wonderful. Did I mention yet that they're all super witty? Because they are. All of them. The banter they have is on another level.
The love between these characters is so heartwarming. All of them love and support each other. None of them are perfect. They're all so flawed, but they love each other anyway. It's great. So great.
And the politics. I gotta say, I've always been a bit of a history buff, so I really enjoyed that aspect of the book. I cried, simply imagining a world in which Ellen Claremont was the president of the U.S. and I'm not even a little bit sorry about that. That woman was badass and she could rule the world if she wanted to. Of course, she's fictional so we kind of have to digress.
Whoa, I'm still so pumped after reading this book. It comes out in a month, but I can't wait to get my own physical copy. I'm going to get as many people as I can to read this, because not only is it an amazing read that'll lift your spirits, it's also super inspirational and necessary. Also, the world must know Alexander Gabriel Claremont-Diaz because he is my child. That is all.