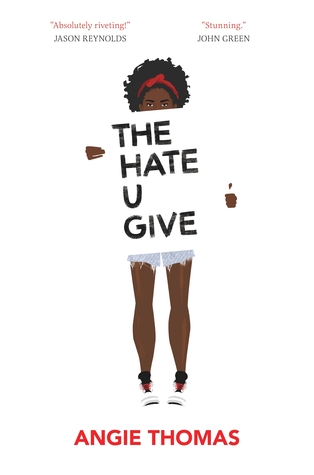 Sometimes you can do everything right and things will still go wrong. The key is to never stop doing right.
The Hate U Give by Angie Thomas is a Young Adult contemporary that had taken the world by storm since it's debut in 2017. It has been nominated several times for awards, and won a lot of them. It's become a movie, and is being taught in schools. Multiple people have tried to get it banned, and it's been on my radar since the book deal was announced. It took me this long to read it for no good reason other than I knew it was going to be sad and good and put it off for a long time. But finally I've read it and I'm so glad I have. 
The Hate U Give follows Starr, a sixteen year old girl who lives in the ghetto but goes to a mostly white prep school. One day she witnesses her friend gets murdered by the police, and the story follows the fall out from that. Throughout the novel, Starr struggles to find out her place in the world and to find her voice even when situations are scary.
It's a beautifully written book. All of the characters are well rounded, and the world is fleshed out so that Garden Heights feels just like the real world. The family dynamics are great, and the issues the book tackles are so important and well talked about. 
This book is wonderful on its own, but what makes it so special is the discussions that can be had when reading it with other people. I read this with my aunt, who has sided with the police in the past, and we had the calmest discussion about racism and police brutality, which honestly shocked me. She said it really opened her eyes, and I love this book for that.
All in all, this is not over-hyped.  It's a must read for everyone, and I'm so glad that schools are teaching it.