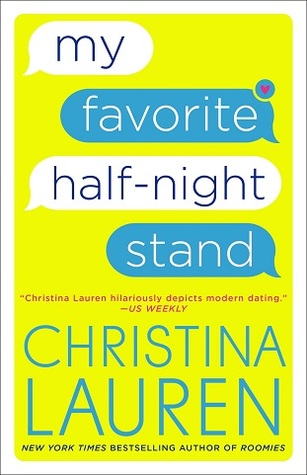 "Is it weird that this roomful of straight men is fighting over Reid and not me?"
My Favorite-Half Night Stand by Christina Lauren is a funny romance book that follows Millie and Reid as they navigate their new friends with benefits relationship while trying online dating for the first time.
Isis has read and reviewed a couple Cristina Lauren books before, but I never had a real interest before. Romance is typically not a genre I reach for. But for the month of February my book club wanted a romance and My Favorite-Half Night Stand was the winner of the poll we always hold. And I have to say, it was a lot of fun.
I think my favorite aspect of the book wasn't even the romance, which I have to admit, was very cute. But the whole friend group Millie and Reid had was so funny and supportive. I even was wishing Christina Lauren would write companion novels of Alex, Chris, and Ed (my fav) each receiving their own romance. Not gonna happen, but it would have been great I tell you.
All the characters were really fleshed out and I personally loved Millie's character arc. There's family involvement too which I always love. There might be a bit of a stretch since they are five  good looking, successful, single teachers who get tenure (at least that's what the women at my book club commented on),  but for me that was easy to ignore. I have seen other reviews complain about how the characters who dumb to online dating as well, but since I've never online dated, that also never bothered me.
Overall, it was a fun, fast read. I think in the future when I get into a slump or simply want a lighter read, I would pick up another book by Christina Lauren.