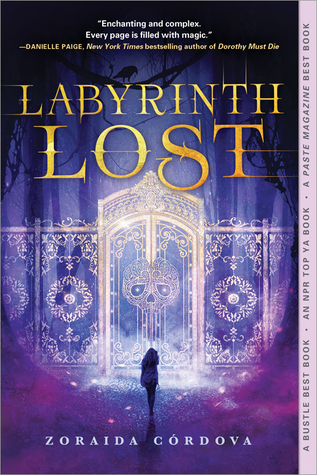 My mother dips her fingers in a bowl of white clay. She covers my face with it, blows on it to help it dry quickly. Her breath is sweet like rose punch. Then comes the coal. She traces the black of bone around my eyes, down my nose, my lips, my cheeks. We wear the face of the dead so the waking spirits feel at home.
Labyrinth Lost by Zoraida Córdova is the first book in a young adult fantasy trilogy. It follows Alejandra a sixteen year old bruja who has been hiding that she has come into her powers for years. I think that's all that's needed going into the story. I knew a lot more and so I knew what was happening for the first fifty or more pages, and it slowed the story down a lot. 
This is an own voices book regarding the Latinx representation. There is also the bisexual love triangle. Rishi is Indian. Diversity like this always elevates a book in my opinion. It makes it feel more real.
The world that Córdova creates is rich and complex. I particularly liked the excerpts from books in their world at the beginning of every chapter. The magic was fun, the belief system felt so real, and I loved exploring Los Lagos with the characters.
The characters themselves were great as well. I loved watching Alejandra grow into herself. I loved her love for her family. Rishi, her best friend, was a fun addition. I always loved her dialogue. Nova, her guide that she's not sure she trusts, was perhaps the most fleshed out of the main characters. The love triangle between the three wasn't the most compelling of all time, but it didn't subtract from the story at all.
Some parts felt a little rushed. Particularly the action and some of the emotional bits. The guilt of Alejandra and the growth of how she felt about her magic felt very repeated, especially at the end. If they would have balanced that out a little more then I think this would have been a complete five star read for me.