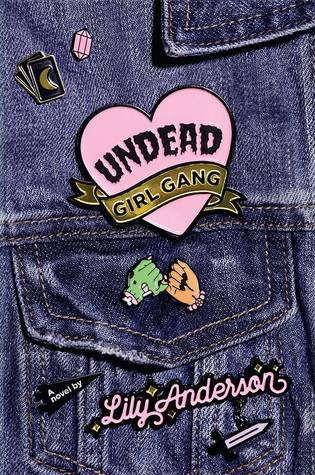 A scoop of dried rosemary goes into the bag, followed by salt. Sometimes, magic looks a lot like how my mom prepares chicken.
Undead Girl Gang by Lily Anderson pretty much made it on my top favorite books of the year at the very first sentence. It is a young adult, paranormal, mystery following Mila Flores as she brings her best friend and two enemy's, those were accidents, back to life for a week. She's convinced her friend was murdered, and needs her help in order to solve it.
The writing of this book was so easy and smart and funny. I quickly sank into this world, and did not want to exit it even as I tore through the pages desperate to find out what would happen. It was gripping and the twist at the end I did not see coming.
The characters were the best part of the book in my opinion. Mila is a fat, Mexican, Wiccan who is snarky and insecure and funny, and one of my new favorite characters. I love her growth throughout the story. The female friend group that forms is great, and I came to really care for each of them.
This book talks about feminism, fatness, cultural appropriation, depression, PTSD, therapy, and I'm sure I'm forgetting some. There are two fat girls of color who talk about their town being small and white. There is an f/f couple as well.
This book should be on everyone's radar. It's tragically under talked about. And with it now being October, this could be a perfect book for those who like spooky vibes without things being too scary.