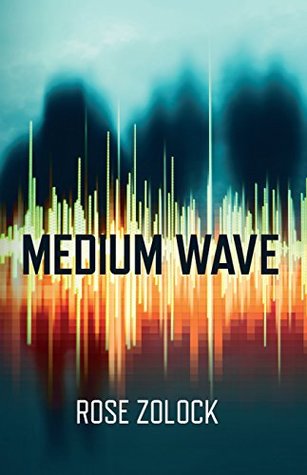 The evil was coming for her.
I received a free copy of this book in exchange for an honest review. This has in no way shaped my opinions of the book.
Medium Wave by Rose Zolock is the first book in a new paranormal thriller series. Becky Moran has made herself famous by pretending to be a medium who can talk to the dead. She has a radio show called Medium Wave. However, during one of her shows Becky touches an old, paranormal object, and suddenly has the very real gift of seeing the dead. Now she has to deal with her new gift because it turns out not all spirits are good. Some are dark, and they are coming after Becky.
The premise of this novel is one I love. The way everything played out felt very natural while still surprising me (somewhat). The story follows Becky, mainly, but also the studio team that had built her image. It showed a lot of the business side of having a radio show which I liked just as much as the paranormal plot line going on.
I didn't much like the way the narration would jump into everyone's heads though. Sometimes it felt repetitive though it was basically the only time that we got to know the other characters. So it was good and bad.
The book includes a main gay character and a main black character which was cool. There was also a lot of fat characters, but I found that less cool because they were always painted in a bad light compared to the tiny, perfectly slim Becky Moran. It was something that really started bothering me by the end of the book. Beck was also in general the perfect person and everyone around her had a lot of bad flaws.
Suicide is mentioned a couple of times in this book so be aware of that if that might bother you. Nothing was especially scary to me, but I don't think I scare that easily. I could see this being really scary for other people.
All in all, I enjoyed this book, and I could see myself continuing on with this series. It's a relatively short read, though I felt the end dragged on a little too much. It's still a solid four stars for me.