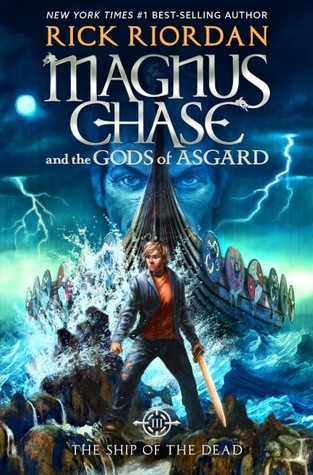 The Ship of the Dead by Rick Riordan is the third and final book in the Magnus Chase series. It comes out in six days, and I can't stop thinking about it. Isis still hasn't read the first one like I've been begging her to do for months, so I decided to make a post similar to her Ari and Dante post talking about hopes and theories for what will be in this next book. 
Disclaimer: I've only read the first three books in the original Percy Jackson series, and the first two of the Magnus Chase series. I have no idea what happens in the rest of the series, so if something ties into that I don't know about it.
Also, there is obviously going to be spoilers below.
Alex and Magnus romance. In a perfect world, this would be extended to a five book series so that this romance could continue to be a slow burn. However, I think I saw Riordan say on twitter it is definitely three books, and I need Magnus and Alex to acknowledge the feelings they have in some meaningful way.

Blitzen and Hearthstone confirmation. I'm not usually so set on the romance side of books, but they are obviously together. I need them to confirm it very obviously in the text to be happy. Maybe with hand holding? An I love you? I don't ask for much.

A conversation between Riptide and Jack. I want Annabeth and Percy to be shocked. It can last for two lines, honestly, it just needs to happen.

I know everyone is freaking out over Percy being in this book. I saw Riordan put on Twitter that it won't be a big part. Honestly, I think he'll be in it for one chapter, maybe three at the most. I see them talking, and Percy sending Magnus to talk to someone else as a way to help. Or giving him something, like the ship of the dead, that will help, and that's it.

Speaking of the ship of the dead, does that mean that Hotel Valhalla is gonna be on this ship? Is T.J., Halfborn, and Mallory going to play a bigger part in this book? I hope so because I love the time they are present.

But if they are all going to be out that means that Ragnarok will happen? It seems likely, yet I hope not. I don't see how it can happen and be all wrapped up in one book. Not in a satisfying way at least.

Sigyn, Loki's wife. I think she will end up playing a big role in taking down Loki. I'm not sure if she'll team up with Magnus or do something completely on her own, but I think she will be important.

I don't think Andirson or Greta, Hearthstone's brother and mother are dead. Or, at least, their deaths are more than what we've been told. I'm not sure what part this will play in the overall plot, or if it'll be a part of the cursed ring keeping them from their journey.

Frey, Magnus's dad. I think we will see him in person in this book. 

Sam will be in great danger with Loki, but she will overpower him.
There's probably a very big plot point that I'm forgetting to even mention, but oh well. I realize these aren't very creative, or even thought out in a big way but honestly I'm bad at that. I  just know I'm excited for this book, and wanted to list out a couple of things I think are important for this last book.