From today until July 30th is the BookTube-A-Thon, and I've decided to try it this year since I'm fifteen books behind according to goodreads. I feel like I'm already failing since it is almost 2 P.M. where I am and I haven't started reading at all. Hopefully I can catch up to everyone who started reading at midnight. Here's the books I plan to read this week:
Challenge #1: Read a book with a person on the cover
Iron Cast by Destiny Soria. Set in the 1900s, two girls who can create illusions through their magical art try and fail at trying to con their city's elite. I've been wanting to read this book for a while, so I'm excited to finally get to it. It's 376 pages.
Challenge #2: Read a hyped book
The third book in the Percy Jackson series, The Titan's Curse by Rick Riordan. I've wanting to continue this series for a while, and what's more hyped than Percy Jackson? This is 312 pages.
Challenge #3: Finish a book in one day
The third book in the Saxby Smart, Private Detective series. I had meant to finish and review this before the read-a-thon started, but oh well. The best laid plans and all that. This is 224 pages.
Challenge #4: Read about a character that is very different from you.
I feel like this is a weird attempt to say read a diverse book, but I've seen people decide to go with animal protagonists and outgoing characters for this. Anyway, I choose The Land by Mildred D. Taylor. In post-Civil War Georgia, Paul-Edward Logan struggles with being biracial. He dreams of owning a piece of land. This is 369 pages.
Challenge #5: Read a book completely outdoors
I'm gonna make this as easy as possible for myself and start my reread of the Saga books. This is 160 pages.
Challenge #6: Read a book you bought because of the cover
Dirty Magic by Jaye Wells. The cover combined with the title caught my attention when browsing the shelves of Barnes and Noble, and I knew I had to find out what it was about. In a world where magic is a drug, a patrol cop finds herself in trouble as she shoots the lead snitch in a crucial case. This is 385 pages. 
Challenge #7: Read seven books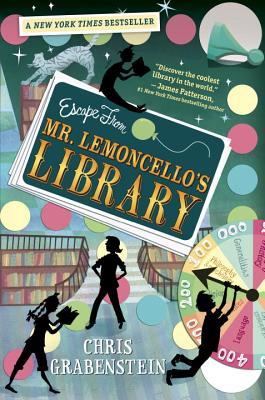 For my last book I knew I had to pick this one up. My mom raved about it after she finished this middle grade mystery in two days. Something she never does. This is 288 pages.
So that is my TBR for this week. It adds up to a total of 2,114 pages. Very intimidating but I'm really hoping to get to all of them. Throughout the week I will be doing update posts, but for now, I'm going to get to reading.