This series keeps geting better and better. I've reviewed the first three books here if you want to check it out. The Dragonbreath series by Ursula Vernon is children's books that mixes novel form with comics, and follows the adventures of Danny, the only mythical creature in his school.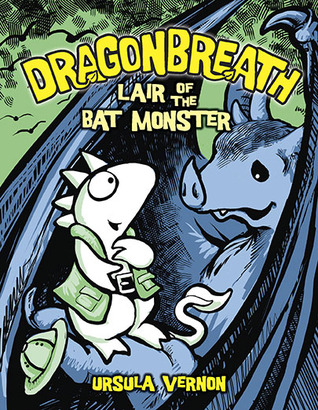 They were best friends. They had a system. Danny was fearless and Wendell was terrified, and it worked out between them.

But at the moment, what his best friend needed wasn't a coward.
In Dragonbreath: Lair of the Bat Monster Danny and Wendell take a trip to the pool, and end up saving a bat from drowning. They end up taking it to Danny's mom to make sure it isn't hurt. She doesn't know anything about bats, but, luckily, they have a cousin who works with them down in Mexico. One bus ride later, they get into a big, monster of an adventure.
This one had a lot more of Wendell's point of view, and I really liked that. His anxiety and worry is both funny and relatable, and make the book more enjoyable to read. This book had a lot of focus on Danny's and Wendell's friendship, and since I've talked about how that is my favorite part of these books, I obviously loved that. The adventure with the bats was really fun as well. I rated this book five stars.
"Well, anyway, Occam's Razor is this principle that the fewer assumptions you have to make, the more likely you are to be right."

"Awhuh?"

"The simplest explanation is usually the correct one."

"Ghosts are pretty simple."
Dragonbreath: No Such Thing as Ghosts takes place on Halloween. Danny goes trick-or-treating with Wendell and Christiana, a girl from school. They run into Big Eddy, the school bully, who dares them to go into a haunted house.
A little slow in the beginning, but this was still a nice read. It's as funny and interesting as the others. Christiana is a new character. She's really into science and is very skeptical of anything that can't be proven with hard facts. I like the dynamics between all three of them. I rated this one a four point five out of five stars.
Danny wished his mother could see him, being responsible and everything. She'd better appreciate it later. The next time he needed a new video game, for example.
Dragonbreath: Revenge of the Horned Bunnies takes Danny to summer camp at Camp Jackalope. He's joined by Wendell and Christiana and Spencer, his annoying seven year old cousin. Under the regular crafts and horseback riding, a conspiracy is brewing, and you bet Danny lands right in the middle of it.
This story was different than all of the previous ones and it was a welcomed change. Christiana appears to be becoming a regular in the books which I like. There was one small annoying thing with blaming the other girls for liking nail polish and makeup, but that's small. Spencer was a cute character. I liked his relationship with Danny. A solid four star book. 
I think these three books are little different than the first three. I could be mistaken since I read the others back in the summer, but these ones have a lot more science in them. Personally, I think it has elevated the series, and has made them that much more enjoyable. I hope the rest of the series continues to include it. I'm not sure when I will be picking up the rest of these, but I know I definitely will one day.