Crunching Leaves: The world is full of color – choose a book that had reds/oranges/yellows

on the cover.
Nicole: Copper Sun by Sharon M. Draper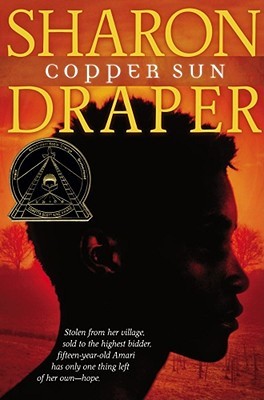 Isis: Point Pleasant by Jen Archer Wood
Cozy Sweater: It's finally cold enough to don warm cozy clothing: what book gives you the

warm fuzzies?
Nicole: Eleanor & Park by Rainbow Rowell. Rowell's writing in general just makes me feel really nice, and this is my favorite book of hers. Eleanor and Park are really cute.
Isis: Every time I read Eleanor and Park by Rainbow Rowell I get the best fuzzies. I love it so much.
Fall Storm: The wind is howling & the rain is pounding – choose your favorite book OR




genre that you like to read on a stormy day.
Nicole: I just read whatever I've been reading on a stormy day. I don't switch books or anything. But when I think of reading on a stormy day, I think of mysteries.
Isis: I'm going to cheat a little bit here and say that the entire Gives Light series by Rose Christo would be perfect on a stormy day. Those books were just so peaceful and warm and I felt so soothed reading them. So definitely those.
Cool Crisp Air: What's the coolest character you'd want to trade places with?
Nicole: I think Amy Curry from Amy & Roger's Epic Detour by Morgan Matson. Just because she went on a cool road trip though. Every other character gets in bad situations I don't want to be in even if I was cool.
Isis: Definitely Penryn from the Angelfall trilogy. I think Penryn is the coolest character ever, and I would love to be in her place, so I could kick butt and also smooch with Raffe. Just saying.
Hot Apple Cider: What under hyped book do you want to see become the next biggest,




hottest thing?
Nicole: This book was published in 2009, but I still wish people talked about it more. Last Night I Sang to the Monster by Benjamin Alire Saenz is really good, but people usually only talk about Aristotle and Dante Discover the Secrets of the Universe. I love that book as well, but I think people generally just read that one, and not Saenz's other books.
Isis: My new favorite novel In Perfect Light by Benjamin Alire Saenz deserves to be so hyped. Nobody has ever talked about it, but it still lingers in my mind months after reading it. Yes, Aristotle and Dante Discover the Secrets of the Universe is an incredible, amazing, perfect book, but I wish people would also talk about In Perfect Light. There is just so, so much to love about it. (I had to mention Ari and Dante, just once).
Coat, Scarves, and Mittens: The weather has turned cold & it's time to cover up -What's




the most embarrassing book cover you own that you like to keep hidden in public?
Nicole: I own a couple of those cheesy romance novels. The ones with the guy and girl are almost kissing, and the guy is usually shirtless. I hate those covers.
Isis: This one:
Did I buy this book solely because it features a sheriff with a heart of gold? OBVIOUSLY. Am I ashamed of it? A little bit.
Pumpkin Spice: What's your favorite Fall time comforts food/foods?
Nicole: Hot chocolate. I can't really think of foods. Maybe beef stew, but I don't only eat that in the fall so. Chocolate it always comforting though.
Isis: I know it's not asking about drinks, but TEA. I can only think of cheesecake as my biggest comfort food. I also just love chocolate chip cookies. All the sweet stuff.