Since this is Mental Illness Awareness Week, we wanted to make another list of recommendations. A few years ago, we made a similar list, but this will be the updated version. If you have any other recommendations, please share them below!
Last Night I Sang to the Monster – Benjamin Alire Saenz
Summary: Zach is eighteen. He is bright and articulate. He's also an alcoholic and in rehab instead of high school, but he doesn't remember how he got there. He's not sure he wants to remember. Something bad must have happened. Something really, really bad. Remembering sucks and being alive – well, what's up with that?
This is a very emotional novel. It follows a boy named Zach who is in rehab, and he's struggling to remember who he is or why he's there. He battles with alcoholism and depression and trusting others. Seeing his progress as the story goes on was really amazing. My favorite character here was Adam, his therapist, who isn't stereotypical at all. Adam becomes an anchor, bringing Zach back to his reality and helping him be okay with living in it.
We Are the Ants – Shaun David Hutchinson
Summary: There are a few things Henry Denton knows, and a few things he doesn't.
Henry knows that his mom is struggling to keep the family together, and coping by chain-smoking cigarettes. He knows that his older brother is a college dropout with a pregnant girlfriend. He knows that he is slowly losing his grandmother to Alzheimer's. And he knows that his boyfriend committed suicide last year.
What Henry doesn't know is why the aliens chose to abduct him when he was thirteen, and he doesn't know why they continue to steal him from his bed and take him aboard their ship. He doesn't know why the world is going to end or why the aliens have offered him the opportunity to avert the impending disaster by pressing a big red button.
But they have. And they've only given him 144 days to make up his mind.
The question is whether Henry thinks the world is worth saving. That is, until he meets Diego Vega, an artist with a secret past who forces Henry to question his beliefs, his place in the universe, and whether any of it really matters. But before Henry can save the world, he's got to figure out how to save himself, and the aliens haven't given him a button for that.
Henry deals mainly with depression. At the start of the book, he's dealing with the loss of his ex-boyfriend, and his terrible situation with bullies at school. There was something so relatable about the way Henry saw the world, and the way his depression and grief fogged his mind. Other characters deal with anger management issues and Alzheimer's. It's another sad book, but so worth the read.
By the Time You Read This, I'll Be Dead – Julie Anne Peters
Summary: Daelyn Rice is broken beyond repair, and after a string of botched suicide attempts, she's determined to get her death right. She starts visiting a website for "completers"— www. through-the-light.com.
While she's on the site, Daelyn blogs about her life, uncovering a history of bullying that goes back to kindergarten. When she's not on the Web, Daelyn's at her private school, where she's known as the freak who doesn't talk.
Then, a boy named Santana begins to sit with her after school while she's waiting to for her parents to pick her up. Even though she's made it clear that she wants to be left alone, Santana won't give up. And it's too late for Daelyn to be letting people into her life… isn't it?
National Book Award finalist Julie Anne Peters shines a light on how bullying can push young people to the very edge.
The topic of suicide, depression, and bullying are very prominent in this novel. I read it at one of my lowest points, thinking it would make things easier, but it didn't. It's a very sad, although a bit trite, story. I still think it's an important read, but I would go into it wary of these trigger warnings.
My Heart and Other Black Holes – Jasmine Warga
Summary: Sixteen-year-old physics nerd Aysel is obsessed with plotting her own death. With a mother who can barely look at her without wincing, classmates who whisper behind her back, and a father whose violent crime rocked her small town, Aysel is ready to turn her potential energy into nothingness.
There's only one problem: she's not sure she has the courage to do it alone. But once she discovers a website with a section called Suicide Partners, Aysel's convinced she's found her solution: a teen boy with the username FrozenRobot (aka Roman) who's haunted by a family tragedy is looking for a partner.
Even though Aysel and Roman have nothing in common, they slowly start to fill in each other's broken lives. But as their suicide pact becomes more concrete, Aysel begins to question whether she really wants to go through with it. Ultimately, she must choose between wanting to die or trying to convince Roman to live so they can discover the potential of their energy together. Except that Roman may not be so easy to convince.
This is one of my all-time favorite books. Another one dealing with suicide, so a big trigger warning for that. The characters in this novel are absolutely beautiful. It was so hard to read about these wonderful people who were so depressed and hopeless, but the author is very careful with their story and with them. I really love this one. Aysel is also one of the best characters I've ever read about. She's incredibly smart.
More Happy Than Not – Adam Silvera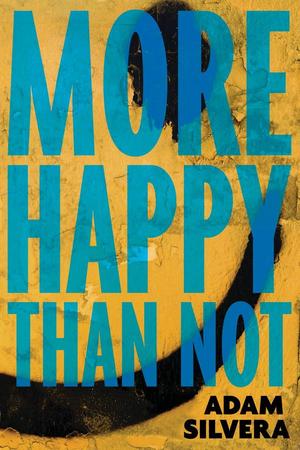 Summary: In the months after his father's suicide, it's been tough for 16-year-old Aaron Soto to find happiness again–but he's still gunning for it. With the support of his girlfriend Genevieve and his overworked mom, he's slowly remembering what that might feel like. But grief and the smile-shaped scar on his wrist prevent him from forgetting completely.
When Genevieve leaves for a couple of weeks, Aaron spends all his time hanging out with this new guy, Thomas. Aaron's crew notices, and they're not exactly thrilled. But Aaron can't deny the happiness Thomas brings or how Thomas makes him feel safe from himself, despite the tensions their friendship is stirring with his girlfriend and friends. Since Aaron can't stay away from Thomas or turn off his newfound feelings for him, he considers turning to the Leteo Institute's revolutionary memory-alteration procedure to straighten himself out, even if it means forgetting who he truly is.
Why does happiness have to be so hard?
I guess we have a trend here because this book deals with bullying, depression, and suicide. However, this one has a bit of a spin. This story is set in a science fiction future where the ability to erase a part of you is a possibility. This one also deals with sexuality and it's an overall heartfelt story. I've only read this once, but I feel like it's still present with me. Aaron's story really touched me; it's a memorable one.
Carry the Ocean – Heidi Cullinan
Summary: High school graduate Jeremey Samson is looking forward to burying his head under the covers and sleeping until it's time to leave for college. Then a tornado named Emmet Washington enters his life. The double major in math and computer science is handsome, forward, wicked smart, interested in dating Jeremey—and he's autistic.

But Jeremey doesn't judge him for that. He's too busy judging himself, as are his parents, who don't believe in things like clinical depression. When his untreated illness reaches a critical breaking point, Emmet is the white knight who rescues him and brings him along as a roommate to The Roosevelt, a quirky new assisted living facility nearby.
As Jeremey finds his feet at The Roosevelt, Emmet slowly begins to believe he can be loved for the man he is behind the autism. But before he can trust enough to fall head over heels, he must trust his own conviction that friendship is a healing force, and love can overcome any obstacle.
Warning: Contains characters obsessed with trains and counting, positive representations of autism and mental illness, a very dark moment, and Elwood Blues.
This story is also one of my favorites. It was easy to connect with both of the main characters in their dual perspectives. Jeremy deals with anxiety, which is very accurately represented. Emmet is autistic, and he has to deal with his own issues. The way these characters are portrayed are very honest. Both of them have distinct voices, and their personalities work so well together. Jeremy and Emmet share a really beautiful love story. And together, they help each other understand and overcome their obstacles.