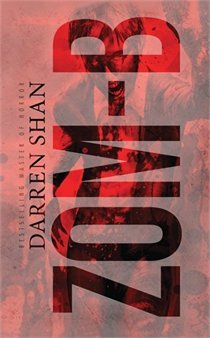 Zom-B by Darren Shan is the first book of a twelve book series revolving around a zombie outbreak. It follows B Smith, a high school student int the U.K. They are all extremely short, under two hundred pages, so the book is  a fast read.
I rated this book two stars. It did not feel like a complete book. The zombies came into the story around the last third of the story. It's basically just the part of where they realize that the news stories are real, pretty much too late, and that they need to aim for the head to kill the zombies.
Most of the book revolves around B's life before then. B's father is abusive and racist, and B struggles with if they are the same. Because B acts racist for their father's approval, but claims not the agree really. However, continues to act racist when not around their father. It all leads to this dramatic moment at the end that I felt rather meh about.
Zom-B wasn't what I was expecting when I read it, and I don't think I will continue the series. I can tell it's not really a zombie book with a disease or anything like that. It's more of a conspiracy type of thing. I don't know if the rest of the series has most of the action packed at the end of the book with cheap little cliff hangers so the reader will want to pick up the next book, but I'm going to guess that they will.